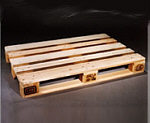 EUROpool pallet
The EURO pool pallet is a four-sided transportable industrial pallet, sized 800 x 1200 mm and manufactured in accordance with the UIC international rail transport norm, Bulletin 435-2, 7th Edition. Load capacity: dynamic (on fork lift) 1.5 t, static (stacked) 6 t.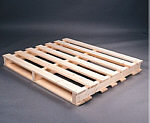 Two-way industrial pallet
Dimensions: 1200 x 1200 mm. Design features: upper and lower side identical, usable on both sides, heavy duty, also especially suited to the storage of sacks and drums. Not for transport with lift truck.Available in non-standard sizes.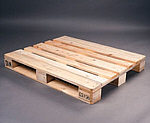 Four-way industrial pallet
Made in accordance with DIN 15146, Page 3, in connection with DIN 15147. Format: 1000 x 1200 mm. Extremely high load capacity with design similar to europallet. Mainly used in cold stores for stacking in frames. Available in hardwood or softwood and in non-standard sizes.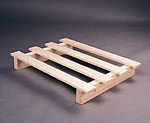 Two-way disposable pallet
Dimensions: 400 x 600 mm, optional with chipboard or weather board, for direct display of goods, mainly in supermarkets. The pallets can be fitted with a printed display made of cardboard or corrugated cardboard.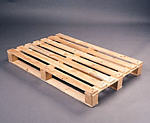 Four-way disposable pallet
Dimensions: 800 x 1200 mm. Can be lifted from all sides. A low-priced disposable pallet, especially suited to transport purposes. Wood thickness 12-20 mm, softwood or hardwood. Available in standard or non-standard sizes, and as cardboard or display pallet.
Brewery pallet (base frame pallet)
Dimensions: 1000 x 1200 mm, or 1100 x 1070 mm, belongs to the group of so-called "window pallets", i.e. the base is designed as a crossed frame. This type of construction enables trouble-free transport on roller conveyors, in both lengthwise and transverse directions, as well as secure stacking in combination with standard plastic boxes.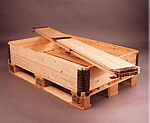 Wooden attachable frames
Standard sizes: 600 x 800 mm, 800 x 1000 mm, 800 x 1200 mm, 1000 x 1200 mm. Non-standard sizes available.20/22 mm softwood, planed, with black painted or zinc-coated hinge. Useful height 200 mm / 400 mm. Can be stacked as required, diagonally collapsible.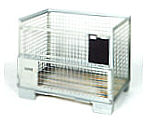 Sale and rental of wire-mesh boxes
new or used
minimum rental period 3 months
rental prices based on quantity and length of hire
For enquiries simply click on
Contact